This site is dedicated to the construction of WW1 aircraft models in 1:32 scale. All photos on this site are my own work and the hints and tips are the methods I use, they work for me but may not necessarily be your style.
WW1 aircraft have a beauty all of their own and were the forerunners to our modern day aviation industry. The models I build are dedicated to those who lost their lives while trying to defend the country they loved, also to those who sacrificed so much to help develop the field of aeronautics. This era in history deserves to be preserved and by me building these models I feel I am doing just that.
Please enjoy this site and if you have any comments or questions please feel free to contact me, I will get back to you as soon as possible.

WHICH MODEL WOULD SUIT ME WITH THE EXPERIENCE THAT I HAVE
Modelling 1:32 scale WW1 aircraft is a very rewarding but also very challenging task. Unlike most WW11 and modern aircraft nearly all WW1 aircraft were fitted with rigging, this is the single most frustrating part of the build that turns most people away from these aeroplanes. In this section I hope to ease modellers into WW1 aircraft by starting off with a basic, easy to build model then working up to the more sophisticated, complex and highly detailed models. Throughout my web site you will find tutorials relating to aspects of the build which I hope will make life just that little bit easier for those who have never built a WW1 aircraft model. My models are by no means 100% accurate replicas.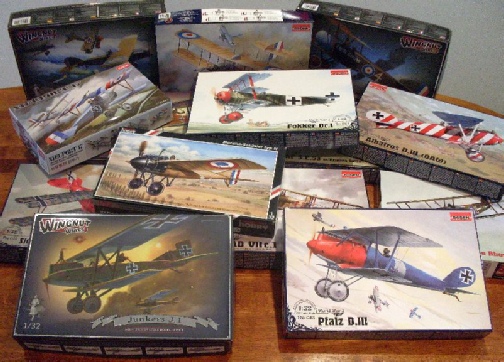 Just a small selection of 1:32 scale models available today. The range of 1:32 scale WW1 aircraft subjects are increasing rapidly with the promise from manufacturers of more to come.
THEY ALL LOOK SO GOOD, WHICH ONE WILL I BUILD FIRST?
Choosing your first model is a tough decision, the box art looks so good and all the models are tempting, but lets first consider the amount of experience you have at model building. To tackle one of these kits, even a simple to build one, you will need to have some modelling knowledge, basic kit construction, painting techniques, decal application, detailing and finishing. You will find most of this information on my site or from the multitude of modelling sites worldwide, magazines or books.

For anyone with very limited or no WW1 aircraft modelling experience I would recommend the 1:32 scale Roden Fokker Dr.1. This is a relatively easy kit to build and with only very minimal rigging it makes the first step into WW1 aircraft a pain free exercise. Naturally, any amount of detail can be added to this model but even straight out of the box (OOB) it builds up to be a very nice and well detailed model.

The 1:32 scale Morane Saulnier type N by Special Hobby is again another kit that builds up fairly easily. It has more rigging than the Fokker but not being a Bi-plane it makes the rigging process a lot easier, you will learn valuable rigging experience with this kit without the hassle of having to work between the two wings. This kit is well detailed but any amount of extra detail can be added, it builds up to be a lovely model.

The Academy 1:32 scale Nieuport 17 is a beautiful aeroplane and this kit is a real pleasure to build. It has limited rigging which is easily installed with just a little bit of rigging experience. Construction is straight forward and a lot of knowledge will be gained during the build and again, if you so desire, you can add more detail. OOB it is a great model.



These three kits are a little more involved as far as construction goes. All three kits have a lot of detail and require an average to above average level of modelling skills to accomplish a respectable finish. The engines on these kits are of good quality and with a little bit of extra detailing they build up to be a model in their own right. Rigging is not overly complicated but does take a bit of expertise to achieve a realistic result. Paint schemes vary with a choice of several finishes for each model, all requiring a degree of painting skills, air brushing is recommended but anyone with good brush skills can achieve excellent results. Decal application is much the same as any model except for the SSW. DIII, it has lozenge on both upper and lower surfaces of both wings, a full build of this particular model is here. All these kits make up to be beautiful looking models and the skills you will gain during construction will be invaluable for future builds. All the kits mentioned so far are relatively inexpensive for a model of their size and no major problems should be encountered during construction. Remember, no kit is perfect, there is always some little thing that does not quite fit right or some parts that need a bit of trimming and sanding to get it to sit correctly, this is all part of the learning curve and will remain with you throughout your modelling life.

The Hobby Craft Sopwith Camel is a very inexpensive kit, it can still be picked up for around the $30 mark. It is easy to build but it is down the rankings a bit because of the double flying wires in the rigging, this requires quite a bit of experience to get right and can be a little complicated for the novice modeller. It does end up being a nice looking model when completed.
The Wingnut Wings Junkers J.1 is a kit that could quite easily be built by a relatively inexperienced modeller. The kit is extremely well detailed with the fit of parts being excellent. It is a user friendly kit and the lack of rigging makes it ideal for the WW1 aircraft learner. A little bit of experience would see the full potential of this kit unfold. Full build log here.



Rigging is difficult enough for the inexperienced let alone double rigging. These three models all have double flying wires which if not done properly will detract from the overall look of the finished aircraft. They are lovely kits to build and make to be a fantastic looking model but a fair amount of modelling skills will be necessary to achieve the desired look. The Spad, having 4 sets of struts, means double the amount of rigging and with only a small distance between the upper and lower wing makes this a difficult aircraft to rig. The Sopwith Pup, an absolutely beautiful model, has double flying wires so again, the rigging task is made just that little bit more difficult. The SE.5a by Roden is a great kit, built OOB makes up to be a good looking model, but there is plenty of scope to add your own details or after market PE sets. This plane also has double flying wires so moderate to average modelling skills would be required to accomplish a respectable result. You must also remember that nearly all the models listed have rigging on the undercarriage and tailplane, plus there is the control rigging, elevator, rudder and ailerons.

The WNW LVG is again another brilliant kit, relatively easy to build because of the perfect fitment of parts. Detailed to a high standard this is another user friendly kit aimed not only at the experienced modeller but also the not so experienced. There is quite a bit of rigging but should prove no problems if you have rigged other Bi-planes previously.

The WNW Bristol F. 2b, like the other WNW kits is brilliant. Rigging is quite complicated and requires plenty of previous rigging experience, there is a lot of it. The control cable rigging is also a challenge, it too is double cables but this time with turnbuckles, see here. This is another user friendly kit. Full build log can be found here.

This is the Roden DH-2, the feature photo on my home page. This is definitely not a kit for the beginner, it has a few inbuilt flaws which require pretty good modelling skills to rectify, it is lacking certain details which can be manufactured but you need some experience to achieve that, but most importantly, the rigging. The rigging is extremely complicated and it is essential that you have a rigging diagram to follow.
The wing struts and the tail booms are very flimsy so require very careful handling when performing the rigging operation. It does build up to be a beautiful looking model and would compliment any WW1 aircraft display cabinet, but leave this one until last, gain as much experience as possible then when you feel confident enough you can tackle this one.
There are many more 1:32 scale WW1 aircraft kits out there that all have their place somewhere in my list. What you have read here is my opinion only, others may think differently on what should be on top of the list as far as your first WW1 aircraft model, but with my experience I feel the list is pretty accurate.
What ever kit you decide to build the most important thing is to have fun doing it.
Below are some photos of the completed models listed above. I prefer to build my models OOB (out of the box) and only add small amounts of detail from materials I have on hand. For those wishing to add PE (photo etched) sets there are plenty available as after market accessories. A lot more kits are now being released with PE included with the kit, I think this will be a trend that will see complete PE sets with every kit soon. Modellers are demanding top quality, highly detailed and more sophisticated kits these days so the manufacturers are producing these kits to suit the modellers wants and needs.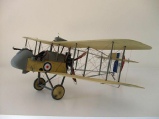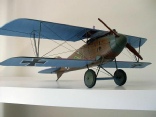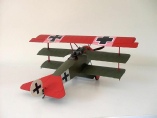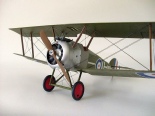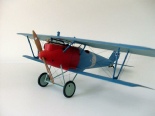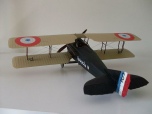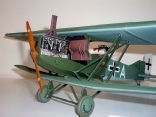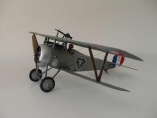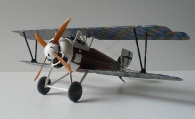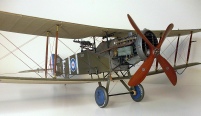 All these models are my own work using the techniques found throughout this web site















Here is just a small selection of photos of what can be done to enhance the kits with some simple added detail. I prefer to make all my own detailed parts instead of buying after market accessories, most of what you see here are made from scrap bits and pieces. I like using brass tube which is available in a variety of sizes and is inexpensive, it can be used for a multitude of applications from inside the cockpit, engine detailing and undercarriage. My main use of the brass tube is for making rigging turnbuckles. Collect as much copper wire as you can and store for later use. Any type of multi strand electrical cable, once stripped, will reveal large amounts of fine copper wire which can be used for just about anything, the range of wire sizes is nearly endless.
Starting with a basic WW1 aircraft kit try adding just small amounts of detail, don't go overboard with your first attempt. You will find that even the smallest added detail will change the appearance of your model. As you gain more experience and learn how to manufacture small detailed parts, each model will become more and more detail. Cross referencing with books, net downloads, photos and any other material you can find will allow you to make just about anything which was on the real aeroplane but lacking with the kits. You will be surprised how such a small hand made item will alter the look of the model, making it look more realistic and adding a great talking point when viewed by admirers.
The main requirement needed when making the tiny little bits and pieces is patience, if you mess up making a part, throw it away and start again. Each time you try it adds to the experience you will gain. But most of all, have fun doing it, it is a great hobby and WW1 aircraft are a fascinating subject, kit manufacturers are now realising that there IS a market for 1:32 scale WW1 aircraft kits so hopefully in the near future there will be an abundance of these kits available.
Click any small picture for a larger image
Index